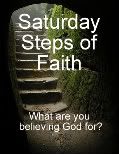 What are you believing God for?

Do you trust God enough to take Him at His word?
Not only for your neighbor or friend..., but for you?
Saturday Steps of Faith
is our opportunity to publicly claim His promises for our lives.
It is the place where we believe God for things great and small.
Who can take a hopeless situation and
turn it around
?
Only God
!
Who can bring healing when the Dr.'s have given up?
Only God
!
Who can give strength when the journey has become long?
Only God
!
Who can bring peace when no peace can be found?
Only God
!

10 Hear, O LORD, and be merciful to me;
O LORD, be my help."

11 You turned my wailing into dancing;
you removed my sackcloth and clothed me with joy,

12 that my heart may sing to you and not be silent.
O LORD my God, I will give you thanks forever.
Psalm 30:10-12

My God is a Reverser of Destiny
. No matter what we see with our eyes, what we hear, what we feel;
God is working in the heavenlies on our behalf and will use it to bring Him glory
.
How about you? What are you believing God for this week? Will you join me?
• Leave a comment or write a post.
• Copy the button located on the left sidebar and paste it into your post.
• Next write down the promise from the Word of God you are taking a step of faith and believing. • Last, come back here and link up with MckLinky. It's that easy.