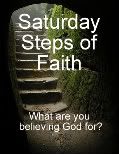 What are you believing God for?

Do you trust God enough to take Him at His word?
Not only for your neighbor or friend..., but for you?
Saturday Steps of Faith is our opportunity to publicly claim His promises for our lives. It is the place where we believe God for things great and small.
If my people, who are called by my name, will humble themselves and pray and seek my face and turn from their wicked ways, then will I hear from heaven and will forgive their sin and will heal their land. 2 Chronicles 7:14
I love this wonderful promise from God. I especially love verses in the Bible that give us an "if", "then" scenario.
God has told us if we will:
Humble ourselves
Pray
Seek the face of God
Turn from our wicked ways.
Then God will:
Hear our prayers from heaven
Forgive our sin
Heal our lands.
I am believing God for the healing of our nation.
How about you? Will you please join me?
Leave a comment or write a post.All you need to do is copy the button located on the left sidebar. Paste it into your post. Next write down the promise from the Word of God you are taking a step of faith and believing. Maybe it's one you have stood upon in the past. Last, come back here and link up with Mr.Linky. It's that easy.