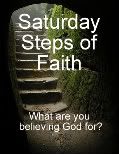 What are you believing God for?

Do you trust God enough to take Him at His word?
Not only for your neighbor or friend..., but for you?
Saturday Steps of Faith
is our opportunity to publicly claim His promises for our lives. It is the place where we believe God for things great and small.
Ah, Sovereign LORD, you have made the heavens and the earth by your great power and outstretched arm. Nothing is too hard for you. Jeremiah 32:17
I wonder how often I tie the hands of the Lord with my unbelief? Unbelief that leaves me stagnant and still instead of moving forward. Though I consider myself to be a woman of deep faith, someone who takes God at His Word; I still have many more miles of
steps of faith
to take.
I have to wonder if sometimes I am like the father of the boy whose son was possessed by an evil spirit who was desperate for an answer to his greatest need. He boldly brought his son to Jesus only to say, "
But if you can do anything, take pity on us and help us."

Jesus responded,
" 'If you can'?" said Jesus. "Everything is possible for him who believes." Immediately the boy's father exclaimed, "I do believe; help me overcome my unbelief!" Mark 9:23-24
Father, I know that EVERYTHING is possible in You! I do believe; help me overcome my unbelief. I want my walk to match my talk; knowing, believing, trusting, confessing, walking by faith. In the name of my Savior, Jesus I ask believing ~ Amen
How about you? Will you please join me?

Leave a comment or write a post.All you need to do is copy the button located on the left sidebar. Paste it into your post. Next write down the promise from the Word of God you are taking a step of faith and believing. Maybe it's one you have stood upon in the past. Last, come back here and link up with Mr.Linky. It's that easy.