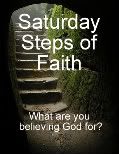 What are you believing God for?

Do you trust God enough to take Him at His word?
Not only for your neighbor or friend..., but for you?
Saturday Steps of Faith
is our opportunity to publicly claim His promises for our lives. It is the place where we believe God for things great and small.
For through the law I died to the law so that I might live for God. I have been crucified with Christ and I no longer live, but Christ lives in me. The life I live in the body, I live by faith in the Son of God, who loved me and gave himself for me. I do not set aside the grace of God, for if righteousness could be gained through the law, Christ died for nothing!" Galatians 2:19-21
One thing I know for certain, and this I truly believe, Jesus did not die "for nothing".
I have

lied

.
I have

cheated

.
I have

stolen

.
I have

gossipped

.
I have

spoken angry, hurtful words against others

.
I have had

idols

in my life.
I have

.....

, (and the list can go on far too long).
The Bible says, "For the wages of sin is death is death". It's what I deserve. The verse goes on to say, "but the gift of God is eternal life in Christ Jesus our Lord."
I deserve death and Hell. I earned it. I chose to disobey God. But by His grace, because of what Jesus did on the cross, I get to choose something different. God said, "If we confess our sins, he is faithful and just and will forgive us our sins and purify us from all unrighteousness."
I choose

forgiveness

.
I choose

to turn

from my way and follow Him.
I choose the

righteousness

of Christ.
I choose

grace

.
I choose

life

.
I choose to believe God, to take Him at His Word, and to walk by faith.
How about you? Who or what are you placing your faith in? Only Jesus can save.
I believe God for my future.
What are you believing God for this week? Will you join me?

• Leave a comment or write a post.
• Copy the button located on the left sidebar and paste it into your post.
• Next write down the promise from the Word of God you are taking a step of faith and believing. • Last, come back here and link up with MckLinky. It's that easy.