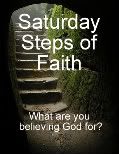 What are you believing God for?

Do you trust God enough to take Him at His word?
Not only for your neighbor or friend..., but for you?

Saturday Steps of Faith
is our opportunity to publicly claim His promises for our lives. It is the place where we believe God for things great and small.
God, who has called you into fellowship with his Son Jesus Christ our Lord, is
faithful. 1 Corinthians 1:9
Does that verse ring true with you? Just reading it stirs up something deep within my soul. It's a beautiful picture of my relationship with the Lord.
Who was the initiator? God!
He called me! He pursued me.
His desire was
for
me.
Why?
Because at the very center of His being, God loves
. His desire is for us to enter into a wonderful love relationship with Him, through fellowship with His Son Jesus Christ our Lord.
Though life may take it's dips and turns, if you ask me to describe God in just one word, my word would be
faithful
. He is faithful to love, faithful to forgive, faithful to protect, faithful to restore, faithful to meet our needs.
He is all of that and so much more. He is faithful
.
Know therefore that the LORD your God is God; he is the faithful God, keeping his covenant of love to a thousand generations of those who love him and keep his commands. Deuteronomy 7:9

How about you? Will you join me?
• Leave a comment or write a post.
• Copy the button located on the left sidebar and paste it into your post.
• Next write down the promise from the Word of God you are taking a step of faith and believing. • Last, come back here and link up with MckLinky. It's that easy.