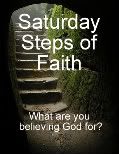 What are you believing God for?

Do you trust God enough to take Him at His word?
Not only for your neighbor or friend..., but for you?

Saturday Steps of Faith
is our opportunity to publicly claim His promises for our lives. It is the place where we believe God for things great and small.
This past week has been a very full one. Sunday afternoon I headed to Indianapolis to spend the night with a girlfriend before beginning a heavily scheduled week of work in the Home Office.
Each morning began with three hours of training as the instructor literally read to us from a 6 inch binder describing the inner workings of a computer language I need to learn. As you can imagine it was thrilling.
Each afternoon for three and a half hours I led a group of Systems Analysts and Business partners through the steps of defining a new credit card application for our Payment Entry System.
For this reason I kneel before the Father, from whom his whole family in heaven and on earth derives its name.

I pray that out of his glorious riches he may strengthen you with
power through his Spirit in your inner being, so that Christ may dwell
in your hearts through faith.

And I pray that you, being rooted and established in love, may have power, together with all the saints, to grasp how wide and long and high and deep is the love of Christ, and to know this love that surpasses knowledge—that you may be filled to the measure of all the fullness of God.

Now to him who is able to do immeasurably more than all we ask or imagine, according to his power that is at work within us, to him be glory in the church and in Christ Jesus throughout all generations, for ever and ever! Amen. Ephesians 3:14-21
How can I do the things that I do? It's all God my friend! It's all Him!
I didn't finish college but instead got married to a man in ministry at the age of 19. And yet God had a plan for my life that included great opportunities.
With
His hand
guiding me, I have been able to accomplish things I never would have dreamed of even trying. With
His strength
I have endured and grown through trying times. With
His love
I have been fully established and my feet have been set firm.
With Him leading and guiding
,
all things are possible.

This one thing I do know, no matter what my future may hold, I trust the One who holds my future
.
He is so worthy! He is a loving Father! I am believing in Him.
How about you? What are you believing God for this week? Will you join me?

• Leave a comment or write a post.
• Copy the button located on the left sidebar and paste it into your post.
• Next write down the promise from the Word of God you are taking a step of faith and believing. • Last, come back here and link up with MckLinky. It's that easy.