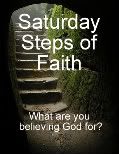 Welcome back for Saturday Steps of Faith. This is a place where we can join together in believing God for things great and small.
I believe that God hear us when we pray

.
Then you will call upon me and come and pray to me, and I will listen to you. You will seek me and find me when you seek me with all your heart. Jeremiah 29:12-13
I believe that God answers us when we pray

.
Before they call I will answer; while they are still speaking I will hear. Isaiah 65:24
This week I'm believing God for a special Word from Him
. In recent days, the journey has been long, the road bumpy and at times hard. All along the way I know He has been with me, leading me, teaching me, loving me encouraging me. I'm feeling a little weary and I want to hear His voice clearly and have my Spirit renewed. I'm really looking forward to some time with just me and God.
Speak to me Lord, I'm listening.
So, what are you believing God for?
To join in,
Write a blog today about what you are believing God for.
Copy the Saturday Steps of Faith button into your post and publish it.
Return to this site and fill out Mr. Linky. This will allow others to click on the link below and jump over to your website.
I'm looking forward to praying and believing God with you.
UUUGGGGHHHHH - Sorry I forgot the MisterLinky. :-)