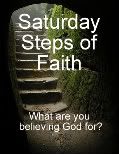 Welcome back for Saturday Steps of Faith. This is a place where we can join together in believing God for things great and small.
I'm flying home this morning from a wonderful time of vacation. I look forward to reconnecting with all of my blogging friends.
Today I'm believing God for the opportunity to share Jesus with someone on the way home.
Father, May I be sensitive to your leading!
What are you believing God for?