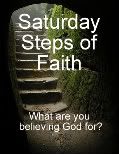 Welcome back for Saturday Steps of Faith. This is a place where we can join together in believing God for things great and small.
I believe that God hear us when we pray.
Then you will call upon me and come and pray to me, and I will listen to you. You will seek me and find me when you seek me with all your heart. Jeremiah 29:12-13
I believe that God answers us when we pray.
Before they call I will answer; while they are still speaking I will hear. Isaiah 65:24

This week I am believing God for deliverance for my husband
. He has struggled with horrible back pain for the last 18 months. In the last several weeks he finally turned a corner and was doing so much better. Wednesday they changed his pain medication and he has been agonizing day and night.
You are my hiding place; you will protect me from trouble and surround me with songs of deliverance. Selah (Psalm 32:7)
Lord I ask you to intervene on Randy's behalf. Father, deliver him from this horrible pain he is going through according to your purpose for his life. Hide him. Protect him. Surround him with the songs of deliverance. Love Him as only you can. In the name of your Son Jesus I pray - amen.
****** P R A I S E - A L E R T 10:00 a.m. God has already heard our prayers. The new medication has kicked in and his pain is now controlled! *********
Lord, Thank You for hearing our prayers and for answering while they were still being spoken! You are Jehovah Rapha - my God who heals. I lift up your Holy Name and Praise you with my whole heart! Thank You for loving us the way that You do!
So, what are you believing God for?
To join in,
Write a blog today about what you are believing God for.
Copy the Saturday Steps of Faith button into your post and publish it. The code is available on the left side bar.
Return to this site and fill out Mr. Linky. This will allow others to click on the link below and jump over to your website to pray.
I'm looking forward to praying and believing God with you.