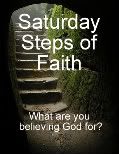 Welcome back to Saturday Steps of faith.
This is the time, this is the place where believers can come together believing God for things great and small.
I believe that God hears us when we pray and more exciting than that, He answers out prayers.
My question to you is, do you?
What are you actively believing God for - right now? Who are you praying for? Are you truly expecting God to answer, to intervene?

Do you believe?
I personally lived through 13 years of infertility before God intervened and miraculously gave us our son in a total "God way"! An adoption agency we had never spoken to called us and offered us a baby to be born in a matter of weeks. They had a waiting list of families..., but God had other plans. He laid us on their heart and they placed the call.
The result...,
I believe!
I believe God hears me when I pray!
I believe God answers every prayer.
Sometimes yes, sometimes no, and sometimes wait....
One thing I know for sure is that He loves me and has my best interest at heart..., and there is no better heart than the heart of God.
I am believing God for his intervention once again. Next Wednesday we have an appointment with a specialist who may hold the answer to alleviating my husband's back pain. The Dr. may have the skill required, but

we place our hope in hands of God..., and I trust Him with the results. I am believing God

!

What are you believing God for?
If you would like to participate, just copy the button code from the lesft sidebar. Next write down what you are believing God for. Last, come back here and link up with Mr. Linky. Let's build a whole network of people who are
believing and praying together
for God to intervene.