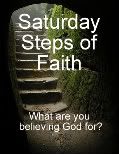 Welcome back for Saturday Steps of Faith.
This is a place where we can join together in believing God for things great and small. I believe that God hear us when we pray.
Then you will call upon me and come and pray to me, and I will listen to you. You will seek me and find me when you seek me with all your heart. Jeremiah 29:12-13
I believe that God answers us when we pray

.



Before they call I will answer; while they are still speaking I will hear. Isaiah 65:24
This week I am believing God for the families across America affected by the

tornadoes and severe weather.
Lord, I ask you to be near those who are suffering from losses of all kinds. I pray that somehow your name would be glorified in the midst of difficulty. I pray that you will immobilize your followers to be your hands. For those who are in need, provide. For those in danger, protect. For those who are afraid, bring peace in the midst of the storm. You are the resurrection and the life. May many come to know you this week. In your name - Amen.