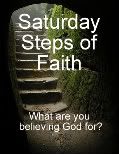 Welcome back to Saturday Steps of faith.
This is the time, this is the place where believers can come together believing God for things great and small.
I believe that God hears us when we pray and more exciting than that, He answers out prayers.
My question to you is, do you?
What are you actively believing God for - right now? Who are you praying for? Are you truly expecting God to answer, to intervene?

Do you believe?
God gave me a verse today that I would like to share.
The Lord your God is with you,
He is mighty to save.
He will take great delight in you,
He will quiet you with His love,
He will rejoice over you with singing.
Zephaniah 3:17
I have 3 friends who in the last few weeks have been diagnosed with cancer or a tumor. Their names are Jayme, Debbie and Ruth. Each of them has a personal relationship with Jesus. Each of them are trusting Him each step of the way.
This week I am taking God at His Word. I am asking Him to delight in each of them and their faith in Him. I am believing that God will quiet them with His love as they listen for His voice and trust in His Holy Name. I am looking forward to hearing how God has rejoiced over each of them with singing. Lord, plant a special song of praise in each of their hearts that will calm their fears and soothe their souls. May they experience peace that passes all understanding as they nestle into nearness with you.
Will you join me in praying for my 3 friends? What are you believing God for this week?