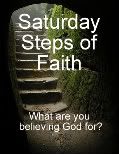 What are you believing God for?
Do you trust God enough to take Him at His word?
Not only for your neighbor or friend..., but for you?
Saturday Steps of Faith
is our opportunity to publicly claim His promises for our lives. It is the place where we
believe God for things great and small
.
And the God of all grace, who called you to his eternal glory in Christ, after you have suffered a little while, will himself restore you and make you strong, firm and steadfast. 1 Peter 5:10
We really do live in perilous times. As I look around, I see more hurting people than I ever have before. The enemy is on the prowl like a roaring lion looking for someone to devour. And in his sights are our children, our marriages, our finances, our churches, our ________. You can fill in the blank.
We are warned in 1 Peter 5 to "
Be self controlled and alert
". We are told to, "
Resist him, standing firm in the faith
" knowing that others are enduring the same types of trials. I believe it is also beneficial to remember the victories of the past. God has been so faithful.
I believe that God is with us through the suffering.
I believe that suffering although it seems like it last for an eternity, is only for a little while.
I believe that God will restore what Satan has stolen.
I believe that when I look back, I will see how God has restored and strengthened me.
I believe that through my trials, my faith has become strong, firm and steadfast.
I believe God!
How about you? Will you please join me?
Leave a comment or write a post.
Copy the button located on the left sidebar and paste it into your post.
Next write down the promise from the Word of God you are taking a step of faith and believing.
Last, come back here and link up with MckLinky. It's that easy.