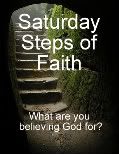 What are you believing God for?

Do you trust God enough to take Him at His word?
Not only for your neighbor or friend..., but for you?
Saturday Steps of Faith
is our opportunity to publicly claim His promises for our lives. It is the place where we believe God for things great and small.
"Be still, and know that I am God;
I will be exalted among the nations,
I will be exalted in the earth." Psalm 46:10

As we read the headlines of the day or watch the evening news, it becomes abundantly clear that our world is stumbling, even tumbling out of control. Greed, anger, selfishness, immorality, corruption and pride are center stage every day.
Where are the Christians? Where is the church?
Do we really believe
God is who He says that He is?
Do we believe
He will do what He says He will do?
Will there really be a day
when every knee will bow and every tongue will confess that Jesus Christ is Lord?
I believe it is time for believers to be still
. It is the time for us to really KNOW our God. Not based on what our Pastors, Teachers or Parents have told us..., but to know Him intimately, personally from His Word. We must stop talking "about God", be still and listen for the voice of God again.
Lord, give us ears to hear. Speak to our hearts. Stir our souls again. May your Spirit fall fresh upon your church.
May we exalt your name among the nations.
Let our generation impact the earth one more time with the fervent message that Jesus is the answer to all of life's questions.
He is the way, the truth and the life
.
There is no other way to be saved
.
I believe God!
How about you? Will you please join me?

•Leave a comment or write a post.
•Copy the button located on the left sidebar and paste it into your post.
•Next write down the promise from the Word of God you are taking a step of faith and believing.
•Last, come back here and link up with MckLinky. It's that easy.
What are you believing God for?