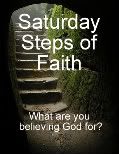 What are you believing God for?
Do you trust God enough to take Him at His word?
Not only for your neighbor or friend..., but for you?
Saturday Steps of Faith
is our opportunity to publicly claim His promises for our lives. It is the place where we believe God for things great and small.
He then brought them out and asked, "Sirs, what must I do to be saved?" They replied, "Believe in the Lord Jesus, and you will be saved—you and your household."
Acts 16:30-31
What a promise from the Bible. A promise that I believe with my whole heart. It was when I was 9 years of age that I made my first step of faith believing that Jesus died for me. Not only did He die for me; He arose from the grave victorious over death and Hell. Today He lives in Heaven and is interceding for me.
Because of what Jesus did; because I have repented of my sin and placed my faith and trust in Him, when I die I believe Heaven will be my home for all of eternity.
At that hour of the night the jailer took them and washed their wounds; then
immediately he and all his family were baptized. The jailer brought them into his house and set a meal before them; he was filled with joy because he had come to believe in God—he and his whole family. Acts 16:33-34

Just like the jailer, my heart is filled with joy knowing that I believe in God and that I believe God.
How about you? Will you please join me?
Leave a comment or write a post.
Copy the button located on the left sidebar and paste it into your post.
Next write down the promise from the Word of God you are taking a step of faith and believing.
Last, come back here and link up with MckLinky. It's that easy.
What are you believing God for?