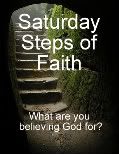 What are you believing God for?
Do you trust God enough to take Him at His word?
Not only for your neighbor or friend..., but for you?
Saturday Steps of Faith
is our opportunity to publicly claim His promises for our lives. It is the place where we believe God for things great and small.
This week I just want to share a bit of scripture without much comment and let God's word speak to each of us from
Psalm 19

7 The law of the LORD is

perfect

, reviving the soul.
The statutes of the LORD are

trustworthy

, making wise the simple.

8 The precepts of the LORD are right, giving joy to the heart.
The commands of the LORD are

radiant

, giving light to the eyes.

9 The fear of the LORD is

pure

, enduring forever.
The ordinances of the LORD are

sure

and altogether righteous.

10 They are more

precious

than gold, than much pure gold;
they are

sweeter than honey

, than honey from the comb.

11 By them is your servant warned;
in keeping them there is great reward.
I have found the Word of God to be all of these things - perfect, trustworthy, right, radiant, pure, sure, precious and sweet.
I believe Gods Word! I believe God!
How about you? Will you please join me?
Leave a comment or write a post.
Copy the button located on the left sidebar and paste it into your post.
Next write down the promise from the Word of God you are taking a step of faith and believing.
Last, come back here and link up with MckLinky. It's that easy.