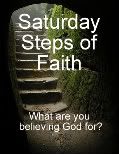 What are you believing God for?

Do you trust God enough to take Him at His word?

Not only for your neighbor or friend..., but for you?

Saturday Steps of Faith
is our opportunity to publicly claim His promises for our lives. It is the place where we believe God for things great and small.
Since last Saturday's Beth Moore Simulcast I have been just pleasantly stuck on Psalm 37. I guess maybe for the first time I realized that
God truly does delight in me
. Doesn't that sound crazy for someone who has been a believer for 36 years?
4 Delight yourself in the LORD and he will give you the desires of your heart.
23 If the LORD delights in a man's way, he makes his steps firm;
24 though he stumble, he will not fall, for the LORD upholds him with his hand.
This week there has been such joy in my heart as I truly took delight in my God. And at the same time I realized that
while I was taking delight in God, He was taking delight in me
. Before long my heart would find itself having a delight-fest going on. That reciprocal delight made my heart feel like it was overflowing. I can't hardly put it into words.
This week I am believing God for the desires of my heart. Those things in the past that I was too afraid to believe could actually be. I am no longer willing to hold back. I Believe God! I believe His Words are true.
Beth said, "If joy was a smile, delight would be a laugh!" Until my faith becomes sight, I choose to delight in my God - with a smile and a laugh that will make people wonder what I'm up to. It will give me a chance to tell them about my Lord.
How about you? Will you please join me?
•Leave a comment or write a post.
•Copy the button located on the left sidebar and paste it into your post.
•Next write down the promise from the Word of God you are taking a step of faith and believing.
•Last, come back here and link up with MckLinky. It's that easy.
What are you believing God for?