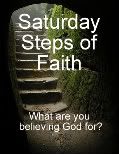 What are you believing God for?
Do you trust God enough to take Him at His word?
Not only for your neighbor or friend..., but for you?
Saturday Steps of Faith
is our opportunity to publicly claim His promises for our lives. It is the place where we believe God for things great and small.
Train a child in the way he should go, and when he is old he will not turn from it. Proverbs 22:6
I am believing God this week for my brother. Although he was raised in the same household and by the same parents as my sister and I - the path he chose to follow was much different.
My hearts desire is for my brother to return to the Lord. His wife is also not a believer. My prayer is that she would trust Jesus for her salvation.
I know that these requests are also on the heart of the Father. Will you join me in praying for Jeff & Maureen? I am believing God on their behalf - that He will move on their hearts and that they will respond with YES!
How about you? What are you believing God for?
•Leave a comment or write a post.
•Copy the button located on the left sidebar and paste it into your post.
•Next write down the promise from the Word of God you are taking a step of faith and believing.
•Last, come back here and link up with MckLinky. It's that easy.