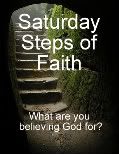 What are you believing God for?

Do you trust God enough to take Him at His word?
Not only for your neighbor or friend..., but for you?
Saturday Steps of Faith
is our opportunity to publicly claim His promises for our lives. It is the place where we believe God for things great and small.
He replied, "Because you have so little faith. I tell you the truth, if you have faith as small as a mustard seed, you can say to this mountain, 'Move from here to there' and it will move. Nothing will be impossible for you." Matthew 17:20
How's your faith? Do you have any mountains that need moving? What is the first thing that comes to your mind when you think of this verse? Is it a sick loved one who needs healing? How about a financial need you have no way to meet? Is your child wandering far from the Lord?
What is your mountain?
Cast all your anxiety on him because he cares for you. 1 Peter 5:7

Call to me and I will answer you and tell you great and unsearchable things you do not know. Jeremiah 33:3

Lord, I praise your Holy Name! You Oh Lord, are in the mountain moving business. When we seek You, we find You. When we call to You, You answer. You are working and moving, even when we cannot yet see. Lord, I believe in You and I believe You! I am looking to the sky, waiting for the mountain to get out of the way. I love You and take great delight in You! You are my God!
How about you? Will you please join me?
•Leave a comment or write a post.
•Copy the button located on the left sidebar and paste it into your post.
•Next write down the promise from the Word of God you are taking a step of faith and believing.
•Last, come back here and link up with MckLinky. It's that easy.
What are you believing God for?