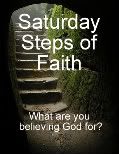 What are you believing God for?
Do you trust God enough to take Him at His word?
Not only for your neighbor or friend..., but for you?
Saturday Steps of Faith
is our opportunity to publicly claim His promises for our lives. It is the place where we believe God for things great and small.
Train a child in the way he should go, and when he is old he will not turn from it. Proverbs 22:6



My hearts desire is for my son Jonathan to be a M
ighty Man of God
. I want him to:
Love the Lord (his) God with all (his) heart and with all (his) soul and with all (his) mind and with all (his) strength. Mark 12:30

...say of the LORD, "He is my refuge and my fortress, my God, in whom I trust." Psalm 91:2

...stand firm. Let nothing move you. Always give yourselves fully to the work of the Lord, because you know that your labor in the Lord is not in vain. 1 Corinthians 15:58

I want these things and so much more. I want there to be a burning passion in his heart for the things of God, the people of God, the Word of God.
Father, before He was even born we gave Him back to you. As parents made a commitment to raise Him according to You Word and Your precepts. At the age of 7 he gave his heart to you. I've seen him grow and flourish into a fine young man.
Lord, grow him to be a Mighty Man of God
. Give us the wisdom as parents to guide him. Show Him the path You would have him to go. Guard his heart and protect him from the evil one. Do great things through Him that will bring you glory ~ Amen.
How about you? What are you believing God for?


•Leave a comment or write a post.
•Copy the button located on the left sidebar and paste it into your post.
•Next write down the promise from the Word of God you are taking a step of faith and believing.
•Last, come back here and link up with MckLinky. It's that easy.