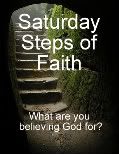 What are you believing God for?

Do you trust God enough to take Him at His word?
Not only for your neighbor or friend..., but for you?

Saturday Steps of Faith is our opportunity to publicly claim His promises for our lives. It is the place where we believe God for things great and small.

1 If a prophet, or one who foretells by dreams, appears among you and announces to you a miraculous sign or wonder, 2 and if the sign or wonder of which he has spoken takes place, and he says, "Let us follow other gods" (gods you have not known) "and let us worship them," 3 you must not listen to the words of that prophet or dreamer. The LORD your God is testing you to find out whether you love him with all your heart and with all your soul. 4 It is the LORD your God you must follow, and him you must revere. Keep his commands and obey him; serve him and hold fast to him. Deuteronomy 13:1-4
Allah is not God.

Budah is not God,
Reverend Moon is not God.
Lao-Tse is not God,
Brahman is not God.
Hare Krishna is not God.
Yahweh (or Jehovah) means literally, "He who will be". He is the God of the Bible is the one true God.
He was before the foundations of the Earth.
He is the I Am of my daily life.
He forever will be my God.
Jesus answered, "I am the way and the truth and the life. No one comes to the Father except through me. " John 14:5
I Love Him!
I Follow Him!
I Revere Him!
I Obey Him!
I Serve Him!
I will Hold Fast to Him for all of eternity!
I am trusting God for my salvation. No one or nothing else.
Who are you putting your faith in?
What are you believing God for this week?

• Leave a comment or write a post.
• Copy the button located on the left sidebar and paste it into your post.
• Next write down the promise from the Word of God you are taking a step of faith and believing.
• Last, come back here and link up with MckLinky. It's that easy.