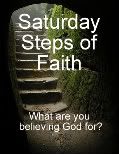 What are you believing God for?

Do you trust God enough to take Him at His word
?
Not only for your neighbor or friend...,
but for you
?
Saturday Steps of Faith
is our opportunity to publicly claim His promises for our lives. It is the place where we believe God for things great and small.
Remember this: Whoever sows sparingly will also reap sparingly, and whoever sows generously will also reap generously. Each man should give what he has decided in his heart to give, not reluctantly or under compulsion, for God loves a cheerful giver. And God is able to make all grace abound to you, so that in all things at all times, having all that you need, you will abound in every good work. 2 Cor. 9:6-8
Today I just want to take a few moments and give praise to my
Faithful God
.
This last year has been full of challenges, but
God has been Faithful
. There have been times when the enemy would come and whisper in my ear, "You can't afford to give that. Where is it going to come from?" Sowing seeds of fear, hoping they would take root.
And yet I knew down deep in the bottom of my soul,
God has always been Faithful
to provide for my
every
need.
This week He has done it again. We have been blessed financially in an unexpected way. As I sit here and think about it, tears fill my eyes. What love! I feel so unworthy. Any yet He loves, abundantly, overflowing, endlessly.
Throughout His word He says,
Ask - and I'll answer.
Seek - and you'll find.
Knock - and the door will be opened.
Give - and it will be given to you.
Share - and I will bless.
Go - and I will go with you.
Trust - and I will be found faithful.
Not to us, O LORD, not to us but to your name be the glory, because of your
love and faithfulness. Psalm 115:1
So today I give Him the Glory. The Glory only He deserves. I will continue to walk by faith, and not by sight. You are MY GOD and I will forever love and trust You!
How about you?

Who are you putting your faith in?

What are you believing God for this week? Will you join me?

• Leave a comment or write a post.
• Copy the button located on the left sidebar and paste it into your post.
• Next write down the promise from the Word of God you are taking a step of faith and believing. • Last, come back here and link up with MckLinky. It's that easy.