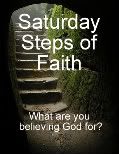 What are you believing God for?

Do you trust God enough to take Him at His word?
Not only for your neighbor or friend..., but for you?

Saturday Steps of Faith is our opportunity to publicly claim His promises for our lives. It is the place where we believe God for things great and small.

1 The LORD reigns, he is robed in majesty; the LORD is robed in majesty and is armed with strength. The world is firmly established; it cannot be moved.
2 Your throne was established long ago; you are from all eternity. Psalm 93:1-2
When the news headlines read of tsunami's, earthquakes, U.S. terror targets and economic woes, I am so grateful to know that the "world is firmly established and it cannot be moved".
God is in control! Nothing that is taking place has taken God by surprise. I don't need to worry. I don't need to fret. My God is on the throne! My faith is in Him alone. I am believing God for His protection, provision, and in His promises!
How about you? What are you believing God for this week?