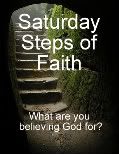 What are you believing God for?
Do you trust God enough to take Him at His word? Not only for your neighbor or friend..., but for you?
Saturday Steps of Faith
is our opportunity to publicly claim His promises for our lives. It is the place where
we believe God for things great and small
.
The promise I am believing this week is Psalm 3:5
Every word of God is flawless; he is a shield to those who take refuge in him.
When I think of the word flawless, what comes to mind is a beautiful, sparkling, clear, diamond. A flawless diamond when sold at auction can be worth millions of dollars. And yet when compared to the value of the Word of God..., in my life -
priceless
.
Every word of God - flawless
. There is no cloudiness, only clarity. There are no flaws, only perfection. It stands on its own merits. Nothing needs to be added or taken away.
Flawless
!
When I take the word of God and hide it deep within my heart, it becomes a
shield of faith
. I can believe it. I can stand upon it. It becomes my refuge from the fiery darts of the evil one. When Satan whispers in my ear that I am all alone, I respond with the Word of God,
"Be strong and courageous. Do not be afraid or terrified because of them, for the
LORD your God goes with you; he will never leave you nor forsake you." Deut. 31:6

I praise you God for your flawless Word. I thank you that it has become my shield and refuge. It is sharper than a double edged sword and far more precious than diamonds or gold. You are my God in whom I trust. I choose to believe your Word, no matter what the circumstance, no matter what I may see with my eyes.

I believe You God

!

How about you? Will you please join me? Leave a comment or write a post.
All you need to do is copy the button located on the left sidebar. Paste it into your post. Next write down the
promise from the Word of God
you are taking a step of faith and believing. Maybe it's one you have stood upon in the past. Last, come back here and link up with Mr. Linky. It's that easy.
What are you believing God for?