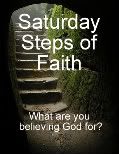 What are you believing God for?
Do you trust God enough to take Him at His word?
Not only for your neighbor or friend..., but for you?
Saturday Steps of Faith
is our opportunity to publicly claim His promises for our lives.
It is the place where we believe God for things great and small.

This week has been a good week.
God's Word has been so alive to me
. The more I study, the more I commit to memory, the more I am inclined to use it as the sword that God intends for it to be.
For the LORD your God is the one who goes with you to fight for you against your enemies to give you victory. Deuteronomy 20:4
Two specific times this week someone has spoken words to me that were a direct attack from the enemy. But by God's grace and at the urging of the Holy Spirit I was able to quickly identity who the attack was really from. God reminded me,
My salvation and my honor depend on God he is my mighty rock, my refuge. Psalm 62:7-8

no weapon forged against you will prevail, and you will refute every tongue that accuses you. This is the heritage of the servants of the LORD, and this is their vindication from me," declares the LORD. Isaiah 54:17
Upon claiming His promises
and choosing to re-focus my mind on God's Word instead of lies of the enemy, Satan had no choice but to flee.
I am so grateful to God for His written Word and for the victory that is ours when we believe!

How about you? Will you please join me? Leave a comment or write a post.
All you need to do is copy the button located on the left sidebar. Paste it into your post. Next write down the promise from the Word of God you are taking a step of faith and believing. Maybe it's one you have stood upon in the past. Last, come back here and link up with Mr.
Linky
. It's that easy.
What are you believing God for?