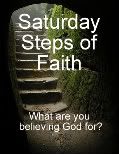 What are you believing God for?
Do you trust God enough to take Him at His word? Not for your neighbor or friend..., but for you?
Saturday Steps of Faith
is our opportunity to publicly

claim His promises for your lives

. It is the place where

we

believe God for things great and small

.
This morning I can't get Philippians 4:19 off of my mind.
And my God will supply all your needs according to His riches in glory in Christ Jesus.

I love how in this verse Paul is making a declaration of faith. It wasn't his friends, it wasn't his church, it wasn't his jailers who would supply his needs. Paul declared "my God" would do it. It was personal for him and it is personal for me. He is my God and I trust him.
Another thing I love about this verse is that I can trust Him with "all" of my needs. Whether it is physical, spiritual, mental or emotional, He can be trusted to supply exactly what I need. Why does He do it? Because of His unfailing love - for me and for you.
This week I want to allow God to take the chisel to my heart and make me into His original masterpiece. In order to do this, I need to give up control. I need to quit looking to myself, my husband, my friends, my co-workers, my church, whoever, to do what God wants to do in my life.
Father, I am believing you and trusting you to meet all of my needs. Whether it is physical, spiritual, mental or emotional, You are all that I need. I love You and I trust You! You are my supply! When I needed a Savior, You sent Your very best. You sent Your Son, Jesus. What love! In His name I pray ~ Amen.
Will you join me? All you need to do is copy the button located on the left sidebar. Paste it into your post. Next write down the Promise from the Word of God you are taking a step of faith and believing. Maybe it's one you have stood upon in the past. Last, come back here and link up with Mr. Linky. It's that easy.
What are you believing God for?