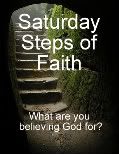 This week I would like to change things up a bit. I would like to use today's Saturdays Steps of Faith for each of us to choose a

Promise from the Word

of God to take

a Step of Faith and believe

.

I invite you to join in. All you need to do is copy the button located on the left sidebar.

Paste

it into your post. Next write down the Promise from the Word of God you are taking a step of faith and believing. Maybe it's one you have stood upon in the past. Last, come back here and link up with Mr.

Linky

.

Here's the verse that I am choosing for this week:


The LORD will fulfill his purpose for me;
your love, O LORD, endures forever—
do not abandon the works of your hands.
Psalm 138:8
Nothing in my life just happens. There are not accidents. There are no coincidences.

The Everlasting God, who was and is and is to come has a purpose for my life. Can you believe it? Little old me. I love how it says He "will fulfill" it. Not might, not will try.., He

will fulfill

his purpose. I serve a God who never fails. Quit is not in His nature. He never leaves a project half done.

Why does He do it?

Because He loves me

! How long will He love me? Forever!

Will He ever walk away from me?

Not on your life!

As I dream about the future, as I make plans, Lord direct my path. I want my plans to be Your plans for me. I want e

ach

step today and every day in the future to be a step of faith and obedience. Father I am trusting you to fulfill Your purpose in me!

Thank You for your lavish love. At times it truly overwhelms me just how much You love me! You are a Father like no other. I love you! In the matchless name of Jesus - Amen



How about you?



What promise are you ready to step out and believe?



Won't you please join me?