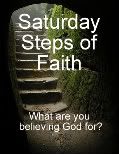 Welcome back to
Saturday Steps of faith
. This is the time, this is the place where believers can come together believing God for things great and small.
I believe God hears me when I pray!
I believe God answers every prayer.
Sometimes yes, sometimes no, and sometimes wait....
This week I am believing God
to lead us to a church with a Youth Group for my son. During the time that we have been looking for a church, Jonathan has not been involved regularly in a Youth Group. I know how important this is for a young man. He has tried a couple, but it is just so hard to be the new kid. This Sunday we are going back to a church that our dear friends attend. I have recently become acquainted with the Youth Pastor's wife and they truly have a passion for young people.
Will you pray with me about this?
Do you believe God answers prayer? If so, what are you believing Him for?
If you'd like to participate, just copy the button on my sidebar and paste it into your post. Next write a post about something you are believing God for. In doing so, we can read and join with you in prayer. Finally, come back here and link up with Mr.
Linky
. It's that easy!
If you don't want to write a post, please leave a comment and so that we can join together in prayer.