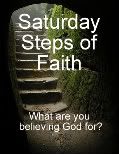 What are you believing God for?
Do you trust God enough to take Him at His word?
Not only for your neighbor or friend..., but for you?
Saturday Steps of Faith
is our opportunity to publicly claim His promises for our lives. It is the place where
we believe God
for things great and small.
The promise I am believing this week is found in Psalm 48:14.
For this God is our God for ever and ever;
he will be our guide even to the end.
For the friend facing cancer,
He will be her guide
.
For the parent struggling with a rebellious child,
He will be her guide
.
For the man struggling in pain,
He will be your guide
.
For the family struggling with financial issues,
He will be your guide
.
For the one who is overwhelmed and doesn't know which way to turn,
He will be your guide
.
Others may leave you. They may turn their back on you.
But Jehovah GOD will be our GOD for ever and ever. He will be our guide until the very end.
He will never leave us. He will never forsake us. He will always direct our path. Because with Him, even the end of this life is just the beginning of eternity for those who know Him.
Father for each of the situations mentioned above, I have the face of someone I love to go with it. People who are looking for answers to difficult circumstances. Lord, be their guide. Draw them close to you. Show them your way. Guide them along the path that leads them straight home to You. May you be glorified in each and every one. Oh how I love You Jesus. It's in your matchless name that I pray ~ Amen
How about you? Will you please join me? Leave a comment or write a post.
All you need to do is copy the button located on the left sidebar. Paste it into your post. Next write down the Promise from the Word of God you are taking a step of faith and believing. Maybe it's one you have stood upon in the past. Last, come back here and link up with Mr. Linky. It's that easy.
What are you believing God for?